Today I weighed in at 139lbs. So far I am down 11lbs! I am really happy about getting down below 140. About two weeks ago I hit a plateau and I didn't loose any weight that week. This motivated me to step up my workouts and to see where I could tweak my diet a little bit. The following week I lost two pounds. My first goal is to reach 130lbs and then 125lbs. My goal weight is 120lbs. I don't think I will be able to go below 120 until I am done breastfeeding. At times my progression feels slow but, I am noticing the changes too. I'm finally able to wear pants that don't have an elastic waistband. Also I am seeing more definition in my arms and legs.
My running is improving ever so slightly as well. I purchased a Garmin Forerunner 10 and it's pretty easy to use. But, I wasn't using it to it's full potential. I thought the watch only kept track of my time and distance.
But with the push of a button it keeps track of my pace! Imagine that!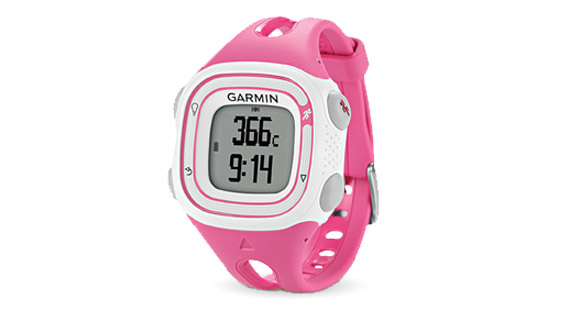 In the past I was always pretty anti-Garmin. I didn't understand all the hype and excitement over a watch that cost so much money. I can honestly say I am hooked. It's a nice tool to keep me on pace when I feel like running a tempo run. I'm also more inclined to head outdoors for a run.
This has been a really busy work week for me. But, I still managed to workout each morning. I am really looking forward to tomorrow's planned rest day. This week I ran outside twice, once on the treadmill, and two days of circuit training. On Tuesday I went out for a 4 mile run in some wicked heat. At 7:30 in the morning it is already 82 degrees when I got back a little after 8am it was closer to 85 degrees. Today was even hotter! I only ran 3 miles this morning but, it was 90 degrees at 7:30 am. It was a really stupid idea. I'm trying to eek out a few more outside runs before it gets too hot. We are in for some brutal weather in Las Vegas this weekend. The daytime high is expected to hit 111 degrees on Saturday! I'm hoping to run on Sunday, I'm going to have to get on the road before 6am if I want this to happen.
My little munchkin turns 4 months tomorrow. I can't believe how fast the cuddly baby stage is going by.
I finally got her to smile for the camera.